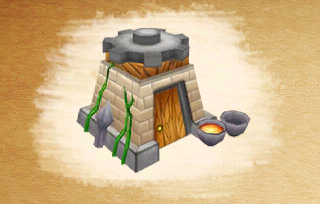 The Trap Shop enables your Village's Walls to be outfitted with a deadly array of surprises to thwart incoming attackers.
You can have only 1 of this building
The total trap supply can be increased by 1 up to a maximum of 20 trough upgrades found in treasure chests.
Available traps depend on the level of the town centre and not the level of the trap shop.
Stats:
| | |
| --- | --- |
| Town Center level: | 4 |
| Category: | Defences |
| Cost type: | Iron |
Upgrades:
(There are three staggered layers in the table below where a new trap is unlocked but the level of the trap shop stays the same)
| Level | Trap supply | Hit points | Upgrade cost | Upgrade time | Town centre level | Unlocked trap at Town centre level |
| --- | --- | --- | --- | --- | --- | --- |
| 1 | 6 | 250 | 75,000 | 6h | 4 | Hot oil |
| 2 | 12 | 270 | 200,000 | 8h | 5 | Snap vines |
| 3 | 18 | 280 | 400,000 | 12h | 6 | - |
| 4 | 24 | 290 | 600,000 | 18h | 7 | Spike |
| 5 | 30 | 310 | 800,000 | 1d | 8 | Flare |
| 6 | 36 | 320 | 1,200,000 | 2d | 9 | Scarecrow |
| 7 | 42 | 340 | 2,400,000 | 3d | 10 | - |
| 8 | 48 | 360 | 4,800,000 | 4d | 11 | - |
| 9 | 56 | 380 | 6,000,000 | 5d | 12 | - |
| 10 | 62 | 400 | 7,500,000 | 6d | 14 | - |
| 11 | 68 | 450 | 9,000,000 | 7d | 16 | Harpoon |
| 12 | 74 | 500 | 12,000,000 | 8d | 17 | - |
| 13 | 80 | 550 | 18,000,000 | 9d | 20 | - |
| | 80 | 550 | - | - | 21 | Sacred flame |
| | 80 | 550 | - | - | 22 | Gnomish booster |
| | 80 | 550 | - | - | 23 | Light wall |
| 14 | 86 | 600 | 25,000,000 | 10d | 25 | - |
Traps: