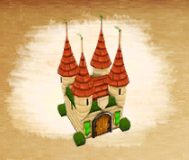 The Kingdom Castle is the home to your Kingdom Builder as well as any donated troops from your Kingdom members. Your Kingdom Builder can be used to speed up Kingdom members construction projects.
Units deployed from this castle will go to and fight the closest enemy they can attack, even if it is on the other side of the map
Attacking the castle with phantoms before it spots any units will prevent it from releasing the defending troops inside
Stats:
| | |
| --- | --- |
| Town Center level: | 5 |
| Category: | - |
| Cost type: | Iron |
| Release range: | 13.0 |
Garrison:
The units this castle can hold are listed below, with frequently found units in bold letters.
Upgrades:
| Level | Unit capacity | Hit points | Upgrade cost | Upgrade time | Town centre level |
| --- | --- | --- | --- | --- | --- |
| 1 | 5 | 1,000 | 10,000 | 0s | 3 |
| 2 | 10 | 1,500 | 100,000 | 6h | 4 |
| 3 | 15 | 2,000 | 500,000 | 1d | 6 |
| 4 | 20 | 2,500 | 1,000,000 | 2d | 8 |
| 5 | 25 | 3,000 | 4,000,000 | 4d | 10 |