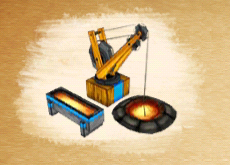 Iron is the backbone of your army.  Upgrade your Iron Quarry to increase Iron production and capacity.  While upgrading, collection is halted.
50% of the iron stored in iron quarries can be stolen during raids. The amount lost is decreased by the "hidden vault" kingdom perk.
From level 13 and hire, iron quarries are able to have a builder work overtime on it to get extra iron every 8 hours. This effectively double the production.
Stats:
| | |
| --- | --- |
| Town Center level: | 1 |
| Category: | Resources |
| Cost type: | Gold |
Upgrades:
| Level | Production per hour | Capacity | Hit points | Upgrade cost | Upgrade time | Town centre level | Buildings available |
| --- | --- | --- | --- | --- | --- | --- | --- |
| 1 | 200 | 500 | 400 | 150 | 1m | 1 | 1 |
| 2 | 400 | 1,000 | 450 | 300 | 5m | 1 | 1 |
| 3 | 600 | 1,500 | 500 | 700 | 15m | 2 | 2 |
| 4 | 800 | 2,500 | 550 | 1,400 | 1h | 2 | 2 |
| 5 | 1,000 | 10,000 | 590 | 3,000 | 2h | 3 | 3 |
| 6 | 1,300 | 20,000 | 610 | 7,000 | 4h | 3 | 3 |
| 7 | 1,600 | 30,000 | 630 | 14,000 | 6h | 4 | 4 |
| 8 | 1,900 | 50,000 | 660 | 28,000 | 8h | 4 | 4 |
| 9 | 2,200 | 75,000 | 680 | 56,000 | 12h | 5 | 5 |
| 10 | 2,500 | 100,000 | 710 | 84,000 | 18h | 5 | 5 |
| 11 | 3,000 | 150,000 | 750 | 168,000 | 1d | 6 | 6 |
| 12 | 3,500 | 175,000 | 800 | 336,000 | 2d | 6 | 6 |
| 13 | 4,000 | 200,000 | 850 | 672,000 | 3d | 7 | 6 |
| 14 | 5,000 | 250,000 | 900 | 1,000,000 | 4d | 8 | 6 |
| 15 | 6,000 | 300,000 | 950 | 1,400,000 | 5d | 9 | 6 |